Skip to product information
Hodl Island (for Troika! RPG)
$15.00
WelCOIN 2 Hodl Island! Where the hustle never sleeps and the personhood of service workers is an open-ended question. We are a community of like-minded sovereign individuals, money launderers and crypto enthusiasts in general, banded around a simple dream: to break free from the shackles of red tape and government meddling! Do you like FREEDOM? Then shut up and SMASH that buy button.

Hodl Island is an adventure location for Troika!, set in the world (sphere, if you will) of Pax Reptiliana. The island was set to become Voss Systems' first blockchain-based, digitally-augmented, Negaverse-integrated paradise resort. However, prior to the PCs' arrival, its big inaugural bash was cut short when Captain Neckbeard and their crew of blackhat cutthroats botched a Party Possum NFT heist. They caused a meltdown of the island's core systems, resulting in loss of cell service and electrical power. It also set the Possums free to rampage through the island and terrorize the visitors. What happens next is for your players to decide.
We've got: 
6 Totally New Crypto Backgrounds

! From the Non-Fungible Man to the Ayn Rand Stan.

12 Awesome, Non-Code Compliant Island Locations

!

It's the ultimate open-air man-cave.

The currency of the future: Gippercoin!

Value guaranteed to fluctuate prior to time of acquisition. 

The Party Possums

, the world's first procedurally-generated collectible adversary!

And Much, Much More!
Diogo Barros - writing, illustration, and design
Matthew Kay - development and editing
52pp, saddle stitched, a5, zine, color cover, black & white interior

Soon to be available at Iglootree (UK) and All the Problems in this World (EU)!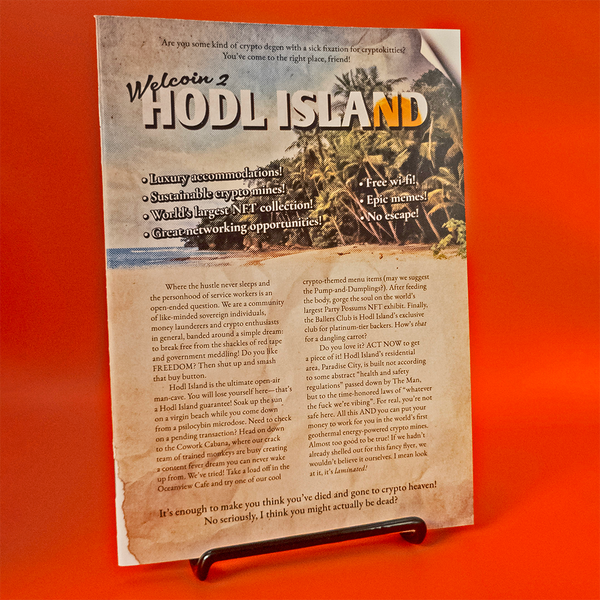 Hodl Island (for Troika! RPG)
$15.00